History of the Golden Gate Bridge
The Golden Gate bridge was built between 1933 and 1937. Its overall length is 9,266 ft (2,824 m); its main span across the strait, 4,200 ft (1,280 m), is one of the longest bridges in the world. Joseph B. Strauss was the chief engineer.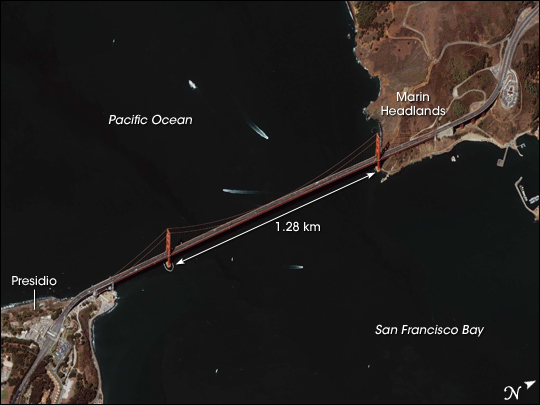 San Francisco's Golden Gate Bridge Was Completed and Opened May 27, 1937
What sights do you think of when you picture the city of San Francisco? How about the massive and lovely 4,200-foot red-painted steel suspension bridge known as the
Golden Gate Bridge
? The famous iconic bridge was completed and opened to pedestrian traffic on May 27, 1937. The next day, with a push of a telegraph button in the White House, President Franklin Roosevelt opened the bridge to motorists as well.
The Golden Gate is special for a number of reasons. Until 1964, it was the longest suspension bridge in the world. (Today, the
Akashi-Kaikyo Bridge
in Japan boasts the longest span at over 6,500 feet.)
Do you know how it got its name?
The area known as the Golden Gate is the channel formed where the mouth of the San Francisco Bay meets the Pacific Ocean. People used the name Golden Gate as early as 1846, even before the gold rush and long before the bridge. Explorer John C. Frémont was possibly the first to call the rocky straits the "Golden Gate."
Construction of the bridge began in 1932, during the Great Depression, when jobs were scarce. The men working on the Golden Gate Bridge (a four-and-a-half-year project) were greatly envied, even though they worked in very dangerous conditions, balancing high above the freezing ocean waters.