The Golden Gate Bridge
In Beautiful San Francisco, California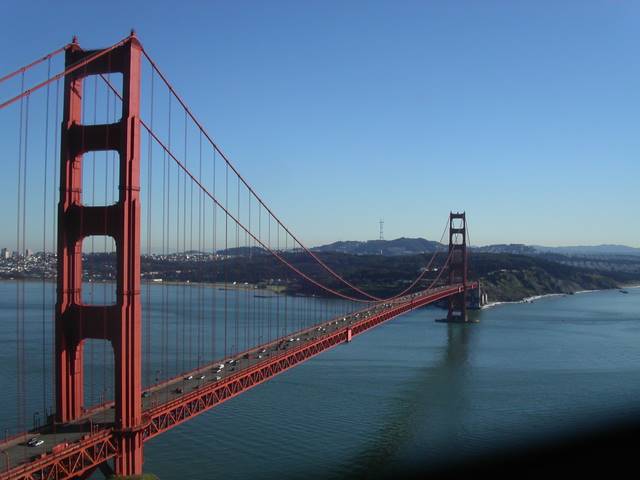 In the early 19th century, the village of Yerba Buena overlooked a natural harbor along the Pacific Ocean. In 1848, a local carpenter found gold in northern California, ushering in the California Gold Rush. The village's population quickly grew to 35,000. Several decades and a devastating earthquake later, the city, now called San Francisco, was looking for ways to ease the flow traffic across the bay. By the early 1920s, a bridge seemed like the natural solution—to some. Many San Franciscans resisted the idea of bridging their great harbor and obscuring their view of the sunset with a human-built structure. After years of debate over the need for a bridge, and concern over how such a big structure could safely be built, the construction project finally began in 1933. On May 27, 1937, the Golden Gate Bridge opened to pedestrian traffic, with 18,000 people waiting to walk across. Vehicles followed the next day.
Directions to Golden Gate Bridge.

Plane
San Francisco, Oakland, and San Jose International Airports service the San Francisco Bay Area.

Car
Golden Gate NRA can be reached by Highways 1, 101 and 280 from the north and south San Francisco Bay Area, and by Highway 880 from the East Bay.
Public Transportation
There are various bus lines that run to and through the park. To get the best information on transit to the park areas you are interested in visiting, refer to the public transit information site: www.511.org